Grapes Issue: the first (real) official game from Equilibre Games.
Grapes Issue is a puzzle/physics refreshing and addictive game in which you will torture grape seeds, to the goal of harvesting the maximum amount of grapes juice! (android-games.fr)
In the store, a juicy description: Throw yourself into winemaking with this wacky puzzle game! Learn how to create the best vintage ever, you will have to help your grape seeds travels through various level by splitting the good from the bad ones. Choose your traps, put them in strategic plces and watch the seeds coming at them to eliminate or save them. A fun and refreshing game for all!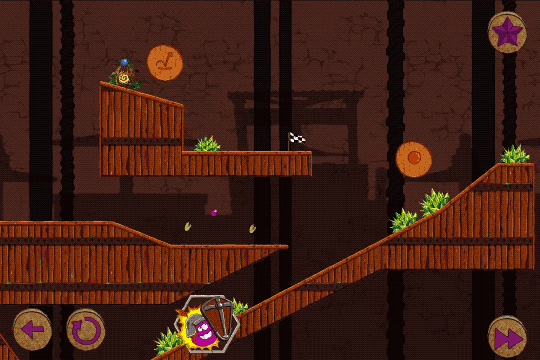 The challenge is present and will keep you out of breath the most reckless among you (androgames.fr)
Developped in a little bit more of one year, while we created the creation pipeline of Equilibre Games, and harrassed by numerous feedbacks or young internships that went in the studio only one week to learn how it goes in a video games company, Grapes Issue went live beginning of 2014.
It's fun, it's colored, it's well animated… Very intuitive and simple to learn, this game is no more that an animated puzzle game that will captivate those whoe like puzzles and will catch the eyes of beginners… Very good for its price, this game will animate a great part of your daily trips or during a longer train trip. (gamingtest.fr)
Ok, very cute all of this, I like that! I even hire a marketing apprentice to help us communicate and advertise our game: video games fairs and festivals, social network, contests, everything that we can think of, we do! We succeed in having a community… a really small community.
Locally, while demoing our game, no issue: journalist likes the subject (in the region of Cognac and Bordeaux, who doesn't like a game about grapes ?!).
We have an post on jeuxvideo.com!
(first video game website in France at that time)
Ok, the ultimate reach at that time, espacially for a mobile game. We wanted to reconcilate smartphones and gamers, that was a real achievement for us in early 2014!
It's nice label let us foreshadow a rich and original puzzle game. At last, the taste of Grapes Issue reveals a rough title that would have enjoyed a few more months of additional maturation to make its puzzle at the finest and smooth the global user experience. 10/20 (jeuxvideo.com)
Except we… threw off our pre launch AND our launch. Despite the fixes and level design improvements the months afterwards, the project was endlessly harmed, and we did not only stuttered on that matter. I know a famous journal that even used this project in school lesson to show everything you should not do when you launch a game, we've seen better for a first experiment!
Despite all of that, this project founded the bases of what will be the identity of Equilibre Games afterwards: integrated tools inside Unity editor, a tightly optimized game (the game works from the very first Android 2.6 Nexus phone without any lag even if it uses a physical engine and a lot of characters on screen sometimes), deployment process simple for multi platform management. While I'm writing this post, year 2018, Unity has not yet published any solution that handle multi platform nearly as good as the process we created back in the day, in 2013!
We finally had to decide weither or not we shut down this project and stop releasing fixes and evolution, either developed or scheduled, to not lose money with a project that did not earn any money, at all. It was a very good start and helped us create the team foundation, but we could not handle the required changes early enough.
Credits
Graphisms: Anne-Sophie Girault
Level Design: Louis Denizet, Frédéric Rolland-Porché
Marketing: Julie Mazé
Development, Game Design: Frédéric Rolland-Porché
Additionnal development: Bastien Giafferi, William Ferraguti, Julien Sacrez